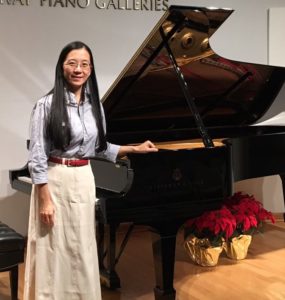 Janet Yao- Piano
Li-wen Yao (Janet) learned the piano since the age of four and had taken private piano lessons from famous pianists and professors Panan Chen, Ho-Hui Lin and Lina Yeh in Taiwan. Janet has been a piano soloist, piano accompanist for all kinds of music instruments, solo singing, chorus, Chamber musician with various ensembles since 1987. She had also been an elementary school teacher for 5 years and maintained a private piano studio for more than 7 years.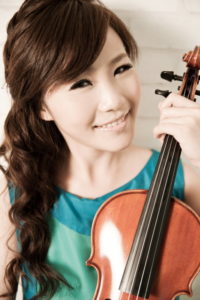 Karen Lin- Violin, Piano
Hsuan Wen Lin (Karen) is a native of Taiwan and attained her doctoral degree in performance at the University of Minnesota. She is also a registered Suzuki teacher with the Suzuki Association of the Americas.

Lin has frequently been invited to perform in professional orchestras and local concerts. Her performance, Schulhoff's Duo for Violin and Cello, was featured in World Journal in 2012. The Minnesota Daily also covered and published her solo recital on, Schuller's Duologue.
Read more
Her recent solo performances include the Vivaldi's Four Seasons in 2015 and the premiere recital for the 50 States Project "Amerigo" in 2016. As a devoted educator, Lin successfully coached students into becoming concertmasters in school orchestras, becoming active performers in summer music festivals, and getting accepted by audition-required events.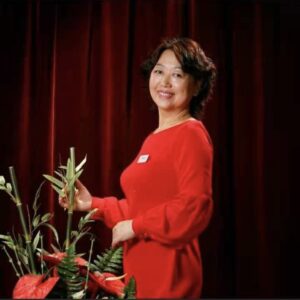 Tina Cui - Voice, Piano
Ms. Tina Cui graduated from the Shenyang Teacher's College in 1983 with a music focus, and from 1983 to 1986, she taught music in elementary school. In 1985, she received recognition from the city of Shenyang for exceptional music education. In 1986, was admitted to the Shenyang Conservatory of Music, graduating top of her class in 1990, and she was chosen as the faculty to the Shenyang Teachers' School's music department.
During her time in the Shenyang Teachers' School, the two choirs she directed received 1st place in the Shenyang City University Choir Competition in the professional and aspiring categories. In 1994, Ms. Cui competed in the Liaoning Music Teacher Skill Competition, which judges piano, voice, conducting, improvised accompaniment, sight-singing, aural, and lesson planning skills. In the 1996 National Music Teacher's Competition, she received 1st place in voice and 3rd place in piano.
Read more
Since immigrating to America in 1998, she has been actively engaged in vocal performance and teaching. Her beautiful singing voice was quickly praised by Atlanta community. And since 2009, she has been a teacher and the lead soprano singer of the Atlanta Oriental Choir (东方之声合唱团). She is actively involved in the Atlanta area as a teacher and a singer. With her affluent and captivating teaching and voice skills, Ms. Cui has won the hearts of the people in the community. Her students won numerous competitions such as the American Protege International Voice Competition.
Whether it be a university or an elementary school level, Ms. Tina can teach either in accordance with their ability. She is serious yet entertaining, allowing her students to learn various aspects of music in a lively environment.
Jennifer Chancellor- Flute
Jennifer Chancellor has studied the flute for over thirty years. Love of music, professional training from well-renowned instructors, and gifted abilities are the reason behind Jennifer's passion for teaching and playing music. During her tenure playing as a student, and professional in weddings, funerals, community orchestras, and ensembles, Mrs. Chancellor has acquired a solid understanding of both the theoretical and practical applications of music. Technical abilities such as breath control, finger technique, tone, and intonation are critical foundational skills a good flautist should master.
Read more
As a teacher, Mrs. Chancellor requires each student to learn while recognizing individual strengths, weaknesses, and individual ways of learning new concepts. James Galway says it best: "You can never be too prepared for anything." Practice is encouraged and inspected.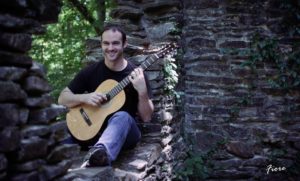 Justin Sheppard- Guitar
Justin Sheppard was born in the small south Georgia town of Tifton. Showing an aptitude in music throughout middle and high school, he played jazz trombone, concert tuba, and marched the baritone horn. His early love for music allowed him to perform and travel with the local college while in high school, and he also taught private brass lessons on tuba and baritone to middle school students in the area at the time. Justin attended the University of Georgia from 1997 to 2000 studying music performance and music education, where he also worked in supervising and tutoring kids at a local elementary school. He finished his bachelor of Science degree in Classical Performance from the University of Georgia while studying under international performer and Professor of Guitar, Daniel Bolshoy.
Read more
He enlisted in the Navy in 2000, deciding to step away from music for a time, and was educated as an electronics technician and nuclear reactor operator. After being selected for a Navy Officer commissioning program, he completed a degree in Criminology and Criminal Justice at the Florida State University. As an Officer, Justin served in various positions both aboard ship and ashore in San Diego and also completed a second degree in Nuclear Engineering Technologies from Thomas Edison State University. After an honorable discharge from active duty service in 2011, he returned to Georgia to continue education at GA Institute of Technology in Atlanta. He bought his first classical guitar at this time and self-taught himself, working through the Christopher Parkening method books for classical style. After two years studying biology and foreign language, he took the opportunity to move abroad and study in a Masters program in International Business at the Russian Presidential Academy in Moscow, Russian Federation. While in Moscow, Justin taught private English language lessons to both children and adults and also taught group English lessons to businesses desiring English improvement.
In 2015, Justin decided to return to Athens, GA in order to return to his musical roots. He auditioned on classical guitar and was warmly welcomed into the UGA Guitar Studio within the Hugh Hodgson School of Music. He has been teaching private guitar lessons while finishing the Guitar Performance degree at the University and is a current member of the UGA Guitar Ensemble and UGA Choruses. Starting in the Fall of 2017, Justin has looked forward to combine his love of teaching and love of the guitar with students at the Vivo Music and Arts Academy.
His teaching style can be best described as both disciplined and flexible, emphasizing development of a well-rounded musical education within the context of the instrument of the guitar. Development of each student on an individual basis is key, and he commits to the learning styles best for each and every person. Justin instructs each student to learn the skills necessary to play their favorite music, and he also wishes to open students' eyes to the full range of the guitar's music, capabilities, and history.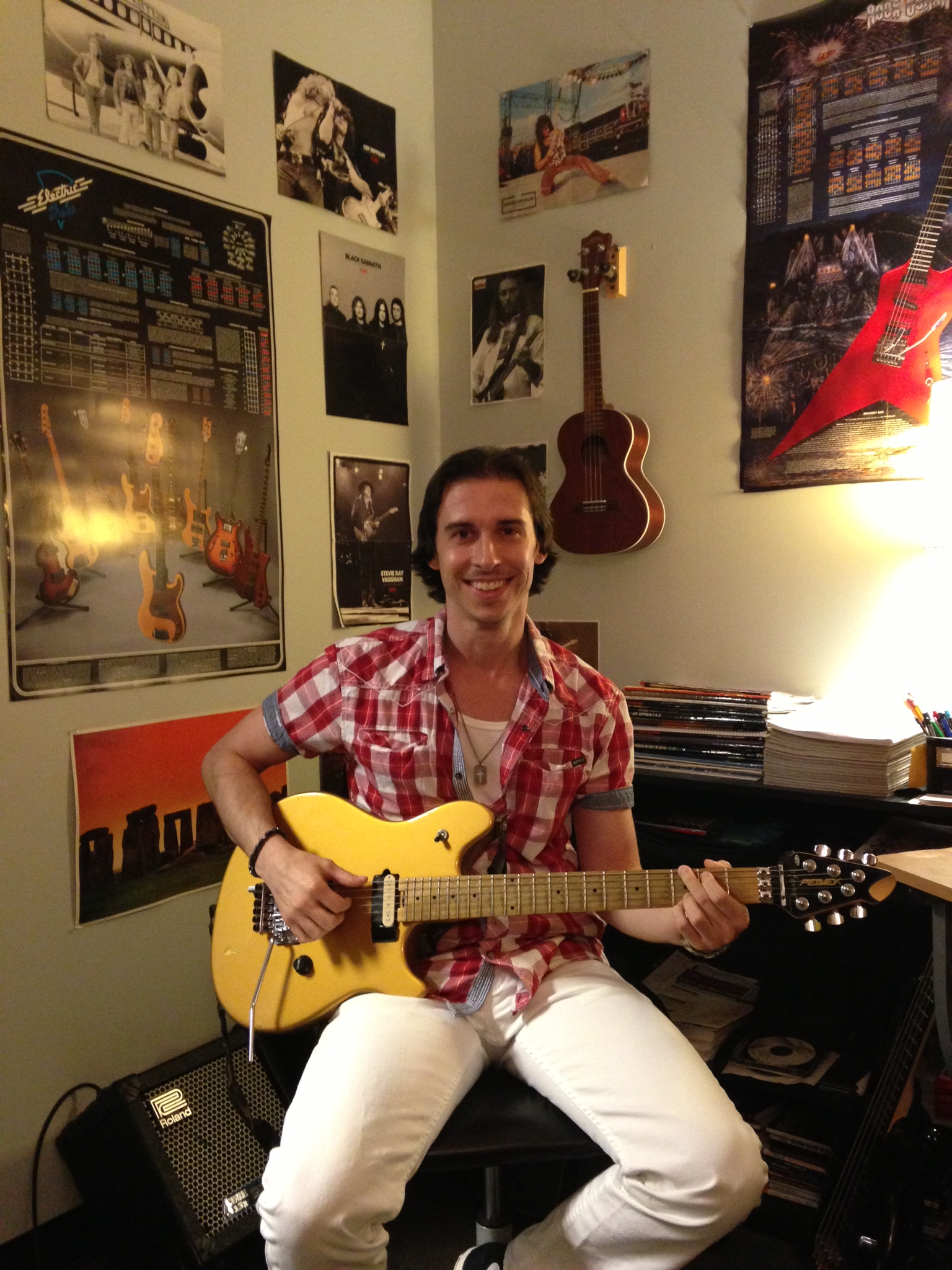 Justin Starks-Guitar
Hailing from Kentucky, Justin grew up in his father's hometown guitar store learning all about the music industry and picking the musical brains of local music heroes, learning to play guitar, bass, ukulele, and drums along the way. Upon graduating from the Atlanta Institute of Music in the summer of 2005, he was placed on a national tour in support of American Idol's Diana Degarmo. After wrapping up touring later that year, he began teaching privately for several Atlanta area teaching studios, directing rock bands for summer camps and aftershool programs, in addition to teaching clinics and masterclasses dealing with music theory and guitar ensemble. In between teaching, Justin has played guitar and bass for several Atlanta based artists as well as writing and performing with his own bands. He has also lent his talents to various Atlanta recording studios most notably doing sessions for Britney Spears and R&B singer, Mya. Currently, Justin is focusing on directing his rock band program and is accepting students to join bands as well as private instruction.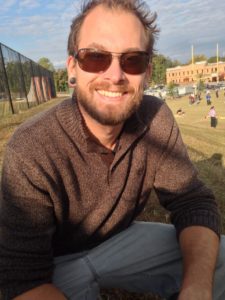 Eric Brown- Percussion, Drum Set
Eric received his undergraduate degree in Percussion Performance from the University of Georgia where he studied under Dr. Thomas McCutchen and Dr. Arvin Scott. Mr. Brown went on to study with Dr. Julia Gaines at the University of Missouri-Columbia where he received his masters degree in Percussion Performance. Eric is currently the Director of Percussion at Lambert High School in Suwannee, GA in addition to working closely with the percussion programs at South Forsyth Middle School and West Forsyth High School.
Read more
Through his performance career, Mr. Brown has had the privilege of performing in the XXXIV Super Bowl Halftime Show, at Carnegie Hall, as well as internationally in Spain, Italy, and China. Mr. Brown was a marching member of the Colts Drum and Bugle Corps as well as WGI World Class Finalist ensembles Pariah Indoor and Odyssey Percussion Theatre. As an educator, he has worked with Forsyth Central High School, Young Harris College, the University of North Georgia, the University of Georgia, the University of Missouri, Atlanta CV Drum and Bugle Corps, Odyssey Percussion Theatre, Mandarins Drum and Bugle Corps, the Colts Drum and Bugle Corps, and Gateway Indoor.
Eric is a member of the Percussive Arts Society and proudly endorses Innovative Percussion sticks and mallets and Remo drumheads.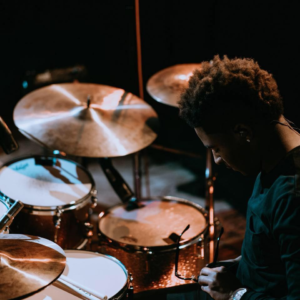 Daniel McCrary- Percussion, Drum Set
Daniel was Born and Bred in St. Louis, Missouri. He recently graduated from Berklee College of Music with a Major in Music Business and Minor in drum-set performance. His musical career dates back to before he could even speak. Ever since he was young he have been playing drums and doing music. He was Influenced by his musical family that dates back to him being in youth choir. He also began playing drums in church in elementary school. By the age of 6 Daniel decided drums would be my primary instrument. He began to study all genres and broaden my horizon as a musician. All throughout high school he studied Jazz, Pop, R&B, soul and funk while maintaining a mild stint in choir. He also played gigs and did studio work.
After high school, Daniel was not only accepted but received a generous scholarship to attend my dream college Berklee College of Music, the only school he applied to. He was blessed with wonderful opportunities such as playing different gigs around Boston, participating in cafe shows, and starring as an Extra in detroit. He accompanied Robert Glasper, and last but not least participated in a promo video for Alesis drums that debuted to thousands of musicians at the world renown NAMM this year! He also have a passion for fashion and photography.
He is now living in Atlanta concentrating on Drums, A&R, Music Production & Engineering as well as the Music Business. 
Monica Georgieva- Piano
Mrs. 
Monica
 has more than 25 years of piano teaching experience with students from preschool through advanced college levels. She is a classically-trained pianist and has a Master's Degree in Music Pedagogy, a Master's Degree in Music with a concentration in Piano Pedagogy, and a music teaching certificate.
In her teaching, Mrs. Monica focuses on building a strong musical foundation by incorporating sight-reading, music theory, and developing technique in a friendly and supportive atmosphere. Her goal is to build a sense of achievement to fuel her students' curiosity and desire for piano mastery. Read more
For beginning students, she uses Faber's Piano Adventures to help students take their first steps in their musical journey. With intermediate students, she focuses on sight-reading, music theory, and developing technique. Mrs. Monica's students are exposed to a variety of technical exercises (Hanon and/or A Dozen a Day), scales, arpeggios, chords, and etudes. Her students are taught to harmonically analyze the music they play to better understand it. Advanced students also work on complex articulation, ornamentation, and interpretation of polyphonic music.
Mrs. Monica's students are exposed to various musical styles and genres from Baroque through contemporary. During lessons, she talks about composers to expand students' knowledge of music history associated with the pieces her students are working on.
Mrs. Monica supplies her students with strategies on how to practice effectively, improve memorization skills, and overcome stage fright. In addition, Mrs. Monica works on developing creative listening skills to better control tone quality. When teaching, she works on enhancing musicianship and artistic expression, while helping her students master their skills and unleash their creative potential. 
Motivating and inspiring students are two of the most essential parts in Mrs. Monica's piano teaching style. She likes to take an enjoyable approach in teaching by integrating duet piano playing and using interactive activities such as flash cards and software-based activities. She believes that students who enjoy the learning process feel excited to learn and continue their musical explorations beyond the lessons. Mrs. Monica encourages consistent effort, acknowledges every small accomplishment, and helps students realize that success requires time, hard work, and dedication.
As a teacher, her greatest reward is to see her students' satisfaction and enthusiasm after a successful audition, performance, or exam. She wants to help her students enjoy their musical journey so today's musical experience becomes tomorrow's source of joy. 
Kaixi Yang- Piano
Kaixi Yang grew up in China. She obtained her Bachelor's Degree in Piano Performance and Instruction from the Wuhan Conservatory of Music in 2016. She then continued her education in music at Auburn University, earning her a Master's Degree in Music Education and boasting a GPA of 4.0/4.0.
Kaixi is an experienced piano and keyboard player. She has taught one on one piano lessons from elementary school kids to working adults. She also thought music to elementary school students in classroom settings. When she teaches music, she uses a range of teaching instruments such as the rhythm stick or colorful music sticks to encourage classroom interaction. Highly experienced in music lesson planning, she teaches music basics, technic, rhythm and theory. Students under her tutelage have performed in various local and regional festivals. She is passionate, gentle, personable, and, most of all, she is a good singer.
Kaixi has won the 3rd prize in the International Youth Art Festival in 2010 and the 2nd prize of Group B in the Fourth International Youth Art Festival in 2011.
Linyi Ge- Piano, voice, chorus
Linyi Ge is a native of China who developed a passion for music from a very young age. Her love for music brought her to college to major in vocal music performance in Tianjin Normal University, which earned her a bachelor's degree in fine art. Linyi's insatiable desire to achieve more then brought her to the United States for a master's degree in music education at Auburn University, AL. Linyi has worked as a music instructor at various schools in China as well as in the United States. She taught music and rhythm using proven ways such as the rhythm stick and other percussive instruments. She also taught choir, piano accompaniment and organized rehearsals for art events. Further more, Linyi has a rich experience in collaborating with other teachers and educators to design music curricula, syllabus, and lesson plans.
Besides her teaching experience, Linyi has also performed at various international performances. For instance, she was a vocal solo performer who performed Iris at the welcoming party of the Moscow State Cultural Institute, where she received a standing ovation from the audience. Linyi is skilled vocally, in dance, in piano, and in other keyboard instruments; she is also technologically savvy, where she edits audio and recording on a regular basis. Fluent in Mandarin Chinese and English, Linyi's music lessons are sure to deliver!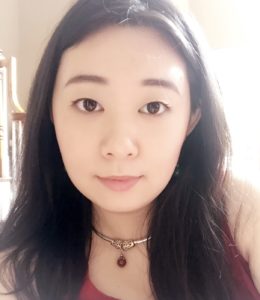 Xiaolei Yu- Piano
Xiaolei Yu (Yinyin) was born in China in 1986 to a family of musicians. She started her musical life when she was 5 years old. Xiaolei Yu had the honor to learn piano from one of the greatest piano professors Zhu, Yafen. She finished her undergraduate and Graduate degress from Shenyang Conservatory of Music in China. She has over 10 years of teaching experience on piano, music theory and solfeggio. Xiaolei Yu is a patient teacher who enjoys sharing the joy of music to her students.
Noah Xu- Piano, Drum
Noah was born in Shanghai in 1986. He began to learn piano at the age of four, and performed Haydn's first piano concerto with the Shanghai Symphony Orchestra at the age of 10.  In the same year, Noah was invited to the Shanghai Television Audiovisual Publishing House to produce the award-winning player CD.
In 1998, he was accepted into the preparatory classes of the Julia School of Music in New York and also the Manhattan School of Music,  and became one of the "SURDNA Foundation Full Scholarships" for the Manhattan School of Music.
In 2007, he joined the U.S. Navy, graduated from the U.S. Naval Conservatory of Music and toured around the North East with the US Navy Band.
In October 2010, Noah was performed at Lincoln Center.  In March 2011, he had a recital at the Carnegie Hall.  In 2012, Noah work as a music director at Shanghai International Bilingual School and performed at the Shanghai Concert Hall.
In 2013, Noah served as the piano accompaniment performing at the Radio City Hall in New York City.
Read more
In October of the same year, Noah participate in the sixth season of the Voice television Show in California.
In February 2014, Noah participated in the Flushing Voice of New York and won the annual championship after three rounds of selection.
In June 2016, Noah was participated in The Voice of China, in Zhejiang Satellite TV.
In November 2016, he was baptized at Bethel Christian Church and serve in the Worship Band.
In 2017, Noah joined the New York City Police Department Of Auxiliary Police Section, and Graduated from the Police Academy.
In 2018, he graduated from The Faith Bible Seminary as a bachelor's degree and continue his Master.  In 2019, Noah was employed as youth pastor of The Korean American Presbyterian Church.
In 2020-2021, Noah was employed as Assistant Pastor under Senior Pastor Benny Zhu in the Church of Family In Lord.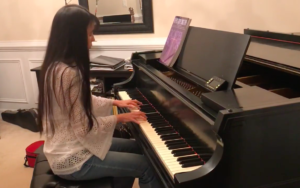 Shiow Tseng- Piano
Shiow (Stella) Tseng holds the view that beautiful music is good for the soul and brain. Whether you are learning music for pleasure or pursuing a professional career in music, she will tailor the teaching to suit your needs, encourage and inspire you to reach your goal. She started piano lessons with Ms. Ling Lee Chen at the age of 6. Later, she was accepted into the prestigious government-sponsored Music Education Program at Kuang Fu Elementary School in Taichung, Taiwan, where she received a well rounded music education in music theory, composition, music appreciation, orchestra and choir while minoring in cello. After moving to the US, she obtained a M. Eng. degree in Civil Engineering from Cornell University with emphasis on Engineering Management and Environmental Engineering. Read more
Throughout her life, she has played piano for various churches, accompanied choirs, played at weddings and senior centers. She is currently a pianist at Perimeter Church in Johns Creek, Georgia. Besides music, she enjoys gardening, traveling and learning different languages. She is also fluent in Taiwanese, Mandarin Chinese and Spanish.
She enjoys seeing people reach their potential. She has been a homeschool teacher for over 15 years and has inspired her own children to be members of Georgia All State Orchestra, Concertmaster of All State Orchestra, member of Emory Junior Chamber Orchestra and Atlanta Symphony Youth Orchestra. Some of her children's accolades include GMTA's Concerto winner in the string division and MTNA strings state winner in Georgia.
Helen Kim- Piano, Violin, Viola, Cello
Ms. Helen Kim graduated with a bachelor's of Music Performance from Silla University (Former Busan Women's University), South Korea in 1990. Upon graduating, Helen taught in Kumho Besteen Music Academy and in Cheju Dajung Elementary school in South Korea as a violin and piano teacher. After moving to the United States in 2007, Helen continued her passion in music education teaching violin, viola and cello.
She has dedicated her career life as a music educator and a professional performer. From 1990 to 2006, she was a violinist in the Busan Symphony Orchestra, Kontack Ensemble, and the Cheju and Cheju City Philharmonic Orchestra, South Korea.
With over 30 years of teaching experience, Helen is able to teach students of all ages and encourage them to find passion in music.
Todd Markey- Violin, Viola, Cello, Double Bass, Guitar, Ukelele
Todd Markey is an orchestral double bass performer in Georgia, frequently heard with the Johns Creek and Carroll Symphony orchestras, as well as the Tango Orchestra Club Atlanta and the contemporary music chamber ensemble Atlanta by Six. He received a master's degree in music performance in double bass from the University of North Texas in 1997 and a bachelor's degree from Augustana College in Rock Island, Illinois in 1995.  Todd was on the music faculty at Valdosta State University from 2000 to 2004.
Read more
Todd has a wide range of musical skills, including classical and jazz performance as well as composition and music theory. His composition, 
4 Basses in 3 Places
 won the 1997 British and International Bass Forum composition contest.  He teaches private lessons on violin, viola, cello, double bass, guitar, and ukulele and is the creator of the popular string education website 
StringClub.com
.  The site features state of the art technology to make learning a string instrument as fun and easy as possible.
Todd has been teaching music for nearly 30 years.  His extensive teaching experience includes private lessons, group lessons, college music theory and ear training courses, middle and high school orchestra classes, after school orchestra programs, summer camps, and sectional coaching.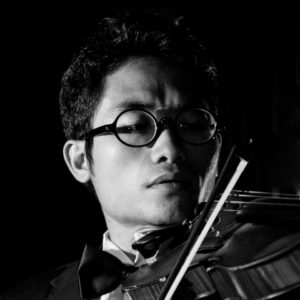 Wilson Tong- Violin, Piano, Guitar, Ukelele, Viola, Cello
Wilson Tong currently teaches in Academe of the Oaks (High School) as orchestra teacher. He serves as Artistic Director of Atlanta Metropolitan Symphony in 2017 Fall. He graduated with Master of orchestral conducting degree in Georgia State University in 2013, served as an assistant conductor, conducted and played violin in Georgia State University Orchestra under maestro Michael Palmer, Artistic Director of the annual Bellingham Festival of Music. He conducted Pleven Philharmonic of Bulgaria in 2012 under Diane Wittry, music director Allentown Symphony Orchestra.
Read more
Born in Hong Kong, China, he began his music journey with violin and piano at eight. He played violin for Georgia Symphony Orchestra for six years and graduated in Kennesaw State University with both music education degree and music performance degree. Tong was KSU concerto competition finalist 2014-2017 and performed in Honor Recital. His studied violin with Dr. Christos Galileas, associate professor of violin in Georgia State, Helen Kim, associate professor of violin in Kennesaw State University, Dr. Edward Eanes, concertmaster of Cobb Symphony. Tong took master classes with Joseph Lin, David Perry, Peter Zazofsky and Maimi strings quartet. He studied conducting in Quartz Mountain Festival 2011, Conductor Institute of South Carolina 2010 and International Academy of Advanced Conducting after Ilia Musin with Leonid Korchmar and Dr. Oleg Proskurnya 2011. He joined Atlanta Variasian acapella since 2009 with CDs recording and youtube channel. He performed violin with Jeffrey Butzer's band MidWives in Atlanta area in 2007. Tong teaches in Johns Creek are a. He teaches violin, viola, cello, guitar and piano. His students performed in Honor Recital, All State Orchestra and got accepted to multiple Universities.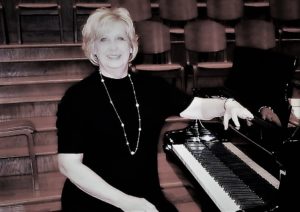 Donna Bailey- Piano
Donna Bailey holds a Master of Music degree in Piano and Music Education. She is a retired Georgia music educator, whose experience includes teaching in Douglas,Cobb and Forsyth counties. Mrs. Bailey began teaching private lessons in 1975. She is trained in various methods of music for young children, with a published music curriculum for young children. Teaching lessons in Forsyth and Dawson counties, she has added voice instruction and vocal audition preparation to her teaching.
Mrs. Bailey is a member of GMTA, NFMC and GMEA. This affords her students performance and festival opportunities. She enjoys teaching students of all ages, and levels, from young beginners to adults.
She also continues to study and perform, serving as accompanist for many school choirs in Forsyth County.
Jia Lee- Piano
Jia Lee has been a certified piano teacher and player for over thirty years and continues to practice and teach to this day. Her studies include a degree in piano-organ performance from Seoul Shindae University (1995) and an organ master's degree from LSU (1997-1999). Not only is her background education diverse, with training from both in and out of the states, her experiences also range from both formal and informal practices. From performing with the Atlanta Chamber Singers society from 2011-2016 to being both the pianist and organist at the largest Korean church in the southeast (2007- ), she continues to grow her love and knowledge of music everyday. Jia currently works with students of all ages from Fulton and Gwinnett counties as a private piano teacher since 2001. She believes it is never too late to pick up music and has also been working with the seniors of Happiness College of seniors choir in helping elders discover and grow their own love for music every Saturday since 2015 and sometimes indulges in conducting as well.
Her ability to nurture and push students is the driving force behind her extensive work experience. She believes that music is a language itself and has the ability to connect all different types of people. Learning styles are different for every student and Jia is keen on working with each student's personality and adjusting as it is key in a student's progress. Her goal is progress over perfection and truly helping each student learn to develop their own relationship with the piano!
David Yao- Violin, Viola
Mr Yao has over 35 years of teaching experience. Upon graduated from Sichuan Conservatory of Music in 1982, Mr Yao worked as principal violinist in Chengdu Symphony Orchestra in China before coming to US in 1991 to pursue higher education in music. He received Master's in violin performance from University of Georgia.
Some of Mr Yao's achievements include: first place of Louisiana music teacher association violin competition in 1993, principal violinist in Mississippi Symphony for 8 years and concertmaster of Ray Charles orchestra in Memphis.
He played many orchestras throughout the Southern States including:
Principle viola: South Arkansas symphony
Principle viola: Monroe symphony
First violin: Shreveport symphony
First violin: Meridian symphony
First violin: Birmingham Symphony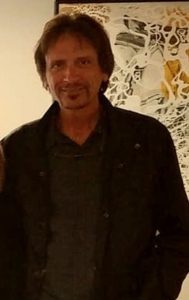 Steve Freeman- Guitar
Steve Freeman has been in the music business for 35 years. Steve studied at Berklee College of Music before making his way to the west coast to attend Musicians Institute. After his graduation, he joined the MI staff and taught there for six years. At MI Steve had the opportunity to play and teach with such artists as Don Mock, Scott Henderson, Steve Trovato, Tommy Tedesco, Joe Diorio, Jeff Berlin and Robben Ford to name a few. While in California Steve was also a studio session guitarist for Japanese radio and television. In 1985 Steve founded the Atlanta Institute of Music, a nationally accredited music school for guitar, bass and drums. As founder and President of the institute he taught and managed an excellent staff and faculty.
Read more
In Atlanta Steve, has performed and/or recorded with Oteil and Kofi Burbrige, Jeff Sipe, Dr. Dan Matrazzo, Randy Hoexter, Geoff McBride and others. After AIM Steve taught 70 private students a week of all levels, ages and styles through Greater Atlanta Christian School, Atlanta Music Brokers, Online and his home studio. Steve joined Camp Jam in 2006 and served as Vice President of Operations for 10 years. Currently Steve is Achieve Music's director of business development and has a passion for telling others about their remarkable educational platform. Steve has authored 4 books, including Jazz Rock and Jazz Pro Lick Series (REH/Hal Leonard Publications), Fusion Guitar (Warner Brothers Publications) and Rock Solid Guitar (Carl Fischer Publications) Steve's latest CD is on Abstract Logix, iTunes and Amazon Some of Steve's recordings and teaching materials music are available at www.stevefreemanguitarist.com Linkedin Profile https://www.linkedin.com/in/steve-freeman-4047/
Judy Huang- Piano
Ms Huang obtained Bachelor of Arts in Music from Queens College the City University of New York Bachelor of Fine Arts Florida International University. Ms Huang has a great passion for piano teaching and has been teaching for over 15 years. She has invested her time and thought into it. She would like her students to enjoy, understand, and bring the ARTISTRY of music into their life. Judy explains why we need to have a good posture and awareness of how our physical parts work together, why we need to have a flexible wrist to play arpeggios, why we push our elbows out to play big chords, why we use different weight transfer to the hands, why we don't attack notes, why we rock back and forth to play tremolos, why we bring the melody out rather than just make sound through different pitches, and etc.
Read more
Piano studying is not only about learning the notations, but also expressions, interpretations, phrasing, structures, tonal relationships, mood, articulations, analysis, and etc. Judy includes some music history in association with the pieces the students are learning to play, along with the theory and structure of it. She would ask her students to find any patterns in the pieces, and any differences between the same or similar passages. She often asks students to tell her what they can find throughout the pieces, based on the knowledge they have and what they have acquired through the lessons. She asks them to listen while playing, while training them to listen at the same time. Therefore, when they make mistakes, they're likely to notice them through listening while playing. She imitates how they play a passage, and how she plays it, and asks them what the differences are, in terms of techniques and artistic interpretation. She explains how the students should practice, and how they can tackle and isolate a problematic area. Most piano teachers would ask their students to practice more and more, yet practicing more does not necessarily translate into a better playing. Judy stresses how to effectively practice, and practice better, not just practice more. Each lesson will be clearly instructed with how to practice for the week. Piano lessons include theory, ear-training, sight-reading, history, technique, performance, interpretation, and artistry. For youngsters, all genres of music are introduced, despite the fact that classical music is concentrated. On the other hand, teenagers and adult students can have their preferences. Ms Huang is an active member in: Music Teacher National Association Georgia Music Teacher Association Gwinnett County Music Teacher Association National Federation Music Club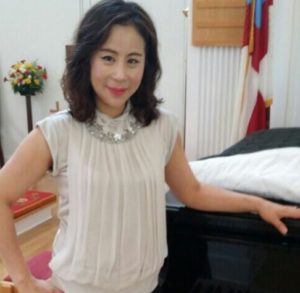 Angie Kim- Piano, Cello
Angie earned  her bachelor degree in music at the university of Maryland. She has a bachelor's degree in piano performance and pedagogy. She studied under the teaching of Reynold Reyes and N. Jane Tan (pedagogy). She studied abroad at the St. Petersburg State conservatory of music school by Dmitry and Yelena in  Russia. As part of continued dedication for her love of cello, she resume her education with Dr. Dan Shomper. She studied  with Katharine Knight who teaches Lamont music school in Colorado, Denver. She's is very creative in her teaching method. She use both Suzuki and traditional methods.  She was also part of Anne Arundel Symphony orchestra where members had the privilege of performance at the Kennedy Center in Washington D.C, performance in Australia and Spain.
Read more
Angie has taught a wide range of student with physical disabilities, has a strong passions for music and work hard to motivates her students the passion and love of music, whether young and old, tailoring their lessons to meet their needs and goals. She  devoted  her time to researching piano& cello  pedagogy and music education by reding books, articles and attending various workshops. She focuses on keeping her teaching resources updated. She  would like to express how to excited she is to have the opportunity to teach your child piano & cello. Her goal is to teach her students in a way that they are enjoying themselves while they are learning. Having taught over more than 10 years, she has found that when students are enjoying the learning process they are most likely to stick with it. She hopes she can succeed in this goal with your child.
Joy Gilmore- Piano
Joy Gilmore is a Taiwanese native who was born into a pastor's family. Joy started to play piano at the age of 7 and then started playing for her father's church at the age of 12. She began her piano teaching career at the age of 18 while she was still attending college. Joy received her Bachelor's degree in piano performance and church music in 1987. Upon receiving her Bachelor's degree, Joy moved on to teach at Glad Tidings Bible College 
Read more
in Taichung, Taiwan from 1987 to 1989 where she was also a certified Carl Orff Pedagogy teacher. In 1994, Joy moved to the United States and continued her piano teaching career in Atlanta, Georgia. To further speak on Joy's accomplishments, she has actively remained a member of the National Federation Music club where her students have won multiple Artistry awards and received superior ratings since 2006. As of today, Joy has been involved in the piano teaching industry for over 37 years.  Joy is an active music composer. She has composed many pieces including piano solos, piano duets, and ensemble pieces. Joy has also rearranged many Hymns and Christmas songs. As an active composer and teacher, she has the ability to easily rearrange music for student's preferred songs at their level. Joy has various piano teaching styles.  For very young toddlers, she utilizes her methods called "Musical Zoo" in which zoo animals are used to assist these children in learning piano.  For the young beginners, they will focus on the basics to build fundamental skills.  Using a plethora of teaching tools, including an iPad, board games and other fun musical activities, Joy is able to help motivate children in learning music theory and music notes. Due to her numerous years of teaching experience, Joy has been able to create unique methods to teach difficult skills such as rhythm counting, finger coordination, sight reading training, and much more. For teen and adult beginners, Joy focuses more on knowledge and physical skills. She has rearranged a series of simplified scales, arpeggios and other technique exercises for them to practice. These exercises have helped many adult and teen students make tremendous progress in their piano playing endeavors. As mentioned prior, Joy can re-arrange a student's favorite song to fit into their skill level so they can enjoy playing their favorite songs, sooner. For the students who want to pursue music as a lifelong career, Joy is a classically trained pianist and can help them pursue their dream of becoming a classical performer.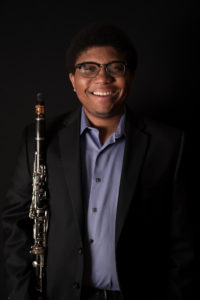 Adam Stallings- Clarinet, Saxophone
Originally from Marietta, GA, Adam Stallings is a clarinet performer and educator in the Atlanta area. Adam is a graduate of Georgia State University, where he earned the Bachelor's of Music degree in Music Education, graduating cum laude in 2019. At Georgia State, Adam performed with the Symphonic Wind Ensemble, Symphonic Wind Orchestra and Symphony Orchestra, and performed with the Symphonic Wind Ensemble at the 2018 College Band Directors Association Southeastern Conference. He also frequently performed in a number of chamber ensembles and frequently premieres new music for composers, including the Southeastern premiere of Sila: Breath of the World, by the Pulitzer Prize winning composer, John Luther Adams. As an educator, Adam has experience teaching in a number of different settings. He has taught throughout the Atlanta area, and has taught full ensemble, marching band, or clarinet in Cobb, Gwinnett, and Hall counties.
Read more
As a clarinet instructor, his students have done well, often sitting at the top of their school ensembles, and placing well at district level auditions. Adam currently studies clarinet with Dr. Kenneth Long, and has taken additional studies with Dr. Dennis Nygren and Dr. Kristina Jones, former principal clarinet of the Akron Symphony Orchestra.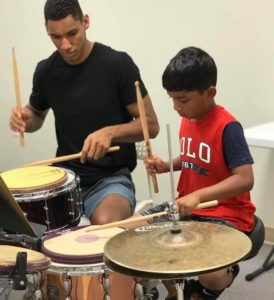 Jarell Holliman- Percussion
Jarrell Holliman went to the University of South Carolina and obtained a Music Performance Degree in Percussion. While attending school, he participated in many notable symphonies around Columbia and Charleston and had the opportunity to teach numerous High School drum lines as well as the Satchel Ford Elementary Steel Pans group. Mr. Holliman now resides in Alpharetta, Georgia teaching individual lessons as well as drum lines in the area.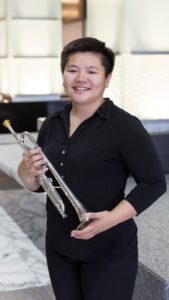 Mina Phan- Trumpet, French Horn
Mina received her Bachelor's in Music Performance at Georgia State University, where she was the recipient of a University Assistantship and studied trumpet under Hollie Lifshey of the Atlanta Opera. During her studies, she was principal trumpet of the University Orchestra from 2016-2018 and played in other ensembles such as GSU Symphonic Wind Ensemble, GSU Opera, and student composition recitals. In addition to her studies, she was also a marching member of 2017 Bluecoats, 2015 Blue Knights, and 2013 & 2014 Atlanta CV. Mina also collaborated with local singer-songwriter Manny Cortes, for whom she wrote and played trumpet parts on his P.O.P. EP for songs "Do Ya Wanna Dance Again?" and "Awesome Sword" with the former also having a music video on YouTube.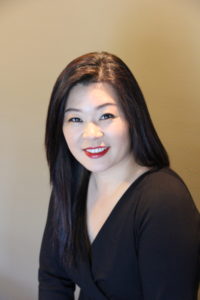 Kyung Mi Yang- Voice, Piano
Kyung Mi Yang is an experienced, educated and encouraging music teacher. She has been teaching for over 25 years: in the classroom as a professor, overseas as a guest lecturer, private lessons instructor and church choir director. She is currently conducting Grapevine Youth and Children's Choir and Klesis senior adult choir. Ms. Yang holds two master degrees, both in choral conducting. Her bachelor's degree is in vocal performance. She was accepted for the DMA program at Southwestern Seminary. Ms. Yang's love for people and love of music intersect at teaching it with heartfelt expertise. She strongly believes that music brings out the best in us; therefore, she pours her affection, passion and skills into the hearts of the students.
Stephen McCool- Piano, Voice
Stephen McCool has been teaching private voice and piano lessons since 2010, and holds both undergraduate and graduate degrees in Vocal Performance from Georgia State University. As part of his personal continuing education program, he has continued to hone his performance skills as both an ensemble musician and soloist by performing with the Atlanta Opera Chorus, Atlanta Master Chorale, Cathedral of St. Philip Schola and Cathedral Choir, and opera companies such as Peach State Opera and Capitol City Opera. As a private music teacher, Mr. McCool has continued to fine-tune his pedagogy skills by preparing students for the prestigious ABRSM exams, National Piano Guild Auditions, NFMC Jr. Festivals, All-State auditions (chorus and jazz piano), and twice-per-year recitals. 
Read more
Most recently, Mr. McCool is particularly proud to have added applied psychology to his music lessons. Aside from teaching repertoire, technique, ear training, sight-reading, and fundamentals such as scales and arpeggios, he works with his students in a wide variety of areas, including memorization techniques, coping strategies for performance anxiety, organization, and time management. Through his own musical experience as well as his years of helping others, Stephen has come to understand that all of these skills are indispensable for any student who wishes to achieve the greatest possible success in music.

Scott Plato- Guitar, Ukulele
Scott received his Bachelor's degree in classical guitar performance from Georgia State University under the instruction of John Sutherland, a protege of Andres Segovia. Scott then completed a Master of Music degree from Adams State University in Alamosa Colorado. In 1995 Scott founded the guitar department at Gainesville College in Gainesville Georgia and was the Head of Guitar Studies there until 2000. His book on guitar improvisation, "Creating Guitar Solos," is now being sold worldwide on www.lulu.com. Previous collaborations have included performances with members of the Atlanta Symphony and the Atlanta Ballet Orchestra. Scott currently maintains a busy schedule as a performer and teacher
Read more
in the Atlanta area and is Head of Guitar Studies at Gordon State College. Scott is endorsed by Augustino LoPrinzi Guitars. Scott is also endorsed by and exclusively performs with D'Addario strings. In 2017 Scott released a solo CD "Sacred Music on Solo Guitar". For sound samples visit https://scottplato.hearnow.com Scott also performs in Duo Catanza, www.duocatanza.com
Bryan Whetstine- Drum
Bryan has been playing drums for over a decade, taking after his dad. He started in the percussion section in the  middle school band, where he played snare, bass drum, mallets, timpani and auxiliary percussion. Bryan graduated from Atlanta Institute of Music and Media with a degree in Music and Technology. He is the drummer for his band HellHounds.