Introduction to the Fundamentals of Guitar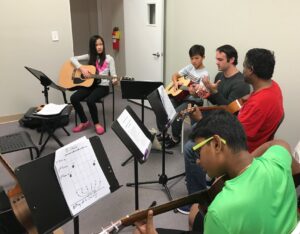 New year is a perfect time to learn a new skill. The class is an introduction to the fundamentals of guitar. With a maximum capacity of 5 students, this small group class is a great way to begin playing guitar and create a basis for further study and enjoyment.
4 1-hour Group Lessons and 1 30-minute Private Lesson
Dates: Saturdays ( Jan 29, Feb5, 12 and 19)
Hour: 9:00 AM-10:00 AM
Tuition: $125 
Age: 7 years old and up
Learn these basics:
• Easy picking techniques
• Basic strumming patterns
• Reading music, rhythm, scales
What to bring:
-A classical or electric guitar (Our instructor can assist you in buying a guitar)
-Hal Leonard Guitar Method Book 1 (please purchase before the first lesson)
Meet the instructor- Justin Starks:
Hailing from Kentucky, Justin grew up in his father's hometown guitar store learning all about the music industry and picking the musical brains of local music heroes, learning to play guitar, bass, ukulele, and drums along the way. Upon graduating from the Atlanta Institute of Music in the summer of 2005, he was placed on a national tour in support of American Idol's Diana Degarmo. After wrapping up touring later that year, he began teaching privately for several Atlanta area teaching studios, directing rock bands for summer camps and aftershool programs, in addition to teaching clinics and masterclasses dealing with music theory and guitar ensemble. In between teaching, Justin has played guitar and bass for several Atlanta based artists as well as writing and performing with his own bands. He has also lent his talents to various Atlanta recording studios most notably doing sessions for Britney Spears and R&B singer, Mya. Currently, Justin is focusing on directing his rock band program and is accepting students to join bands as well as private instruction.